Delivering
Measurable Results
5-frame Coaching™ developed by Cultiver Group's CEO Michael Coffey ensures that we can provide measurable results through coaching in your organization. Through our tailored approach, specific coaching needs and goals are determined in a collaborative process that involves the coaching sponsor (organization), supervisor, the person being coached, and your 5 Frame Certified Coach.
An Individual Coaching Plan (ICP) developed for each coaching participant includes goals based on business needs that can be measured by business results. Whether you need coaching for executive team members or emerging/high potential employees, we can create a plan that ends with measurable, results-focused coaching.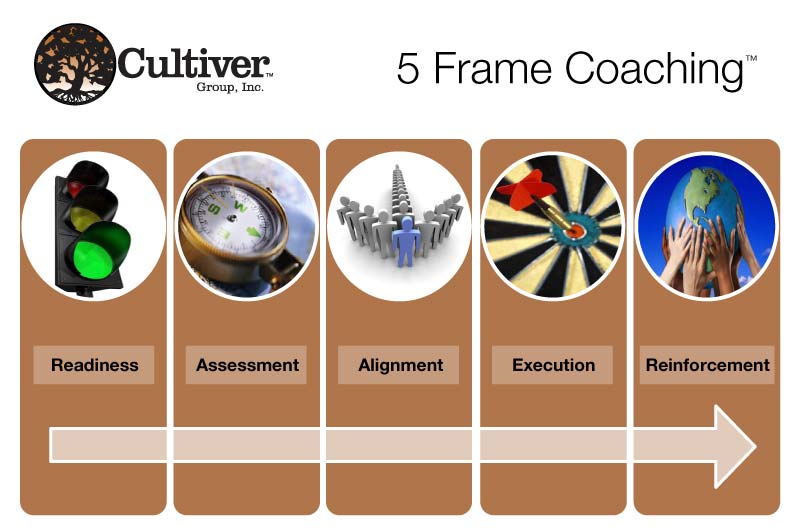 The readiness stage is designed to establish essential connections and measurable goals, working with your leaders to help them clarify their coaching needs and identify their best coaching candidates. In partnership, we build a solid foundation in which organizational and individual coaching goals, outcomes, measurements, roles, and the coaching process are understood and agreed on by all relevant parties:
Clarify your intention and readiness for coaching

Identify organizational goals, internal coaching sponsors, and business cases for coaching

Identify coaching candidates (Coaching Readiness Assessment – part 1)

Hold initial coaching session – Clarify connection, commitment and consent.
The assessment stage utilizes a series of powerful self-assessment and 360-degree tools that allow the person being coached to gain significant insight and greater understanding, clarity, focus, and direction. The outcome of this stage is a multidimensional picture of the style, strengths, drives, and fundamental guiding values of the person being coached. Examples of assessments used during this stage include:
Strength Deployment Inventory

The Leadership Circle 360 Profile
The alignment stage is designed to ensure individual strengths and goals are aligned with organizational vision, mission, values, goals, and required business performance outcomes, to achieve improved performance, prevent derailment, increase trust, and accelerate career advancement. Success is founded on developing key relationships and executing measurable business results. This stage includes alignment of:
The execution stage is designed to implement goal-focused and action-oriented coaching results. Throughout this stage, the coach is working with the person being coached, his coaching sponsor, and your coaching coordinator to ensure that Individual Coaching Plan (ICP) goals and objectives are being achieved. This stage includes the use of measurement and feedback based on:
Individual Coaching Plan Goals and Objectives
The reinforcement stage includes actions and events that strengthen and reinforce the changes made by the person being coached. This is also a time for this person to take on even greater responsibility in developing his plan for continued growth, development, and self-leadership.
Continued reinforcement, marked by accountability, recognition, rewards, and resourcing, will ensure the continued execution of the ICP while bottom-line business objectives are affected.